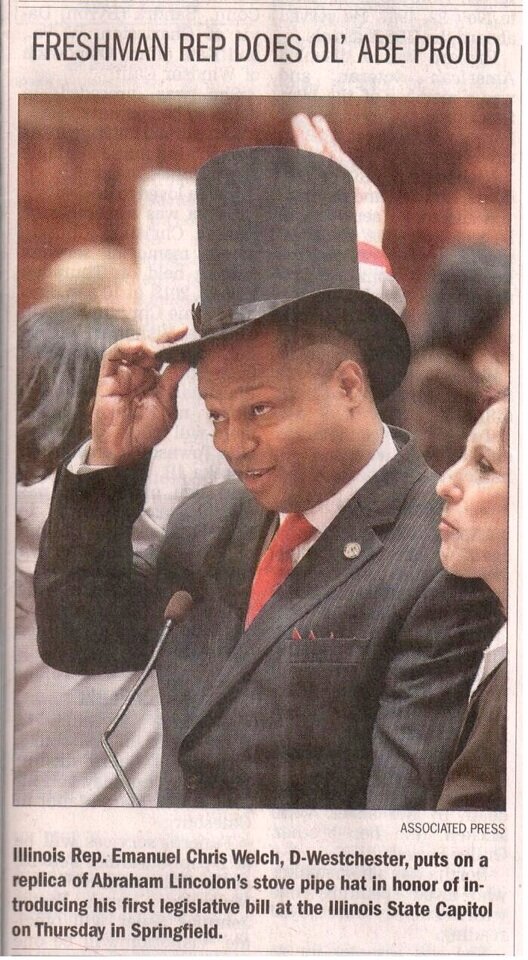 On February 21, 2013 our newly-minted State Representative, Emanuel Chris Welch (Democrat, 7th Dist.), donned his best Abe Lincoln impersonation (top image courtesy of the Peoria Journal Star via Welch's Twitter feed) to argue his first bill, HB129, on the floor of the Illinois House of Representatives, but he came off looking more like a younger, hipper version of Rich Uncle Pennybags (the monopoly guy). I'm not sure who he was trying to go for in the other getup, but it definitely takes the cake. He looks like a COGIC bishop. In fact, the look is so convincing, I didn't know whether he'd taken the pic at a legislative session or an ordination service.
According to Legiscan, HB129 "Requires all school boards to designate the first Monday in October of each year 'Bring Your Parents to School Day' to promote parental involvement and student success." The bill also states that "on this day, a school board shall permit the parents or guardians of students to attend class with their children and meet with teachers and administrators during the school day." It's not exactly the 13th Amendment, but I think we can all agree that Rep. Welch's bill deserves some praise.
As for the actual Lincoln, he perhaps could've used Rep. Welch's replica top hat and red riding hood-esque coat (is that a woman's?). According to David Herbert Donald's biography, Lincoln (via Wikipedia), the future President borrowed $200 in preparation for his first session in the Illinois legislature (which lasted from December 1, 1834 to February 13, 1835). He spent $60 of that on clothes. We hope Rep. Welch's financial circumstances aren't as rough as the would-be-president's. But if the freshman Representative is really ambitious, perhaps he should develop a habit of making bad fashion statements. After all…
Either way, we wish Welch all the best. If you're interested in speaking to the new State Rep. in person, he'll be hosting an Open Forum at the La Grange Park Village Hall Board Room this Monday, March 11, from 6 pm to 7:30 pm. For more information, contact Welchs Constituent Service Office at 708-450-1000, or email him at repwelch@emanuelchriswelch.com.